Here are three things to consider: branding, packaging, and labeling. This post will cover each, letting you know what you should do.
It might seem like an easy process to brand your honey, but there are several factors that shouldn't be overlooked. The first thing you'll need to do is create a logo so that you can put it on your labels and anything else you use to market your honey.
Make sure that your logo is unique. If you run a farm, you will need to make sure it is unique enough to stand out from the other farms in the area. If you are putting it out for sale, you will want something that is eye-catching and that will make people want to buy it.
To create a logo, try one of the following services:
Fiverr

With Fiverr, you can find many designers who will create your own custom graphics for you. They can create logos and design your labels. You can search through their database of artists and find people who work you like for a price you can afford.

Snappa

If you would prefer to create your own designs, you can use an online platform like Snappa. Upload your own files, choose shapes, and play with how things should look until you are satisfied.

Etsy

Not only will many designers on Etsy be happy to create your logo and label designs for you, but some will be able to print them out and send them to you directly.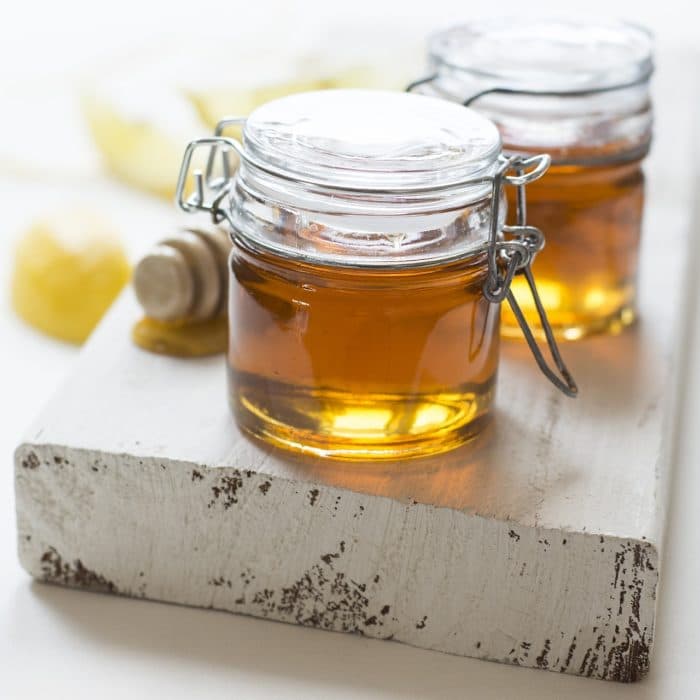 How to Package Your Honey
You will also need to decide what type of bottles to use when selling your honey. There are pros and cons to choosing sizes as well as whether or not you should go with plastic or glass containers. Here are the things you should consider:
Plastic vs Glass Bottles
Nothing shows off the golden color of pure honey like a glass bottle, making your product more appealing to people. The glass will also elevate the perception of how people view your honey as it will look more refined. That being said, even though the glass looks good, some customers may be wary of purchasing a breakable container (especially if they have kids).
Plastic is durable and allows the user to squeeze the honey out of them, reducing the amount of residue that will alter your honey over time. Plastic is also lightweight and is generally a cheaper option than glass. On the other hand, plastic looks cheap and can slightly alter the taste of your honey.
Bottle Shape
Choosing a unique shape may make your honey look like it is of higher quality. On the other hand, you can play on people's nostalgia by selling your honey in classic bear-shaped bottles. Regardless of which shape you choose, remember that you will need to create logos that will work well with the shape.
Bottle Size
You should also consider what sizes you want to sell. You may be able to charge a little more per ounce for smaller sizes, but they will also take more work to package. Many honey sellers choose to sell a few different sizes to accommodate those with different desires.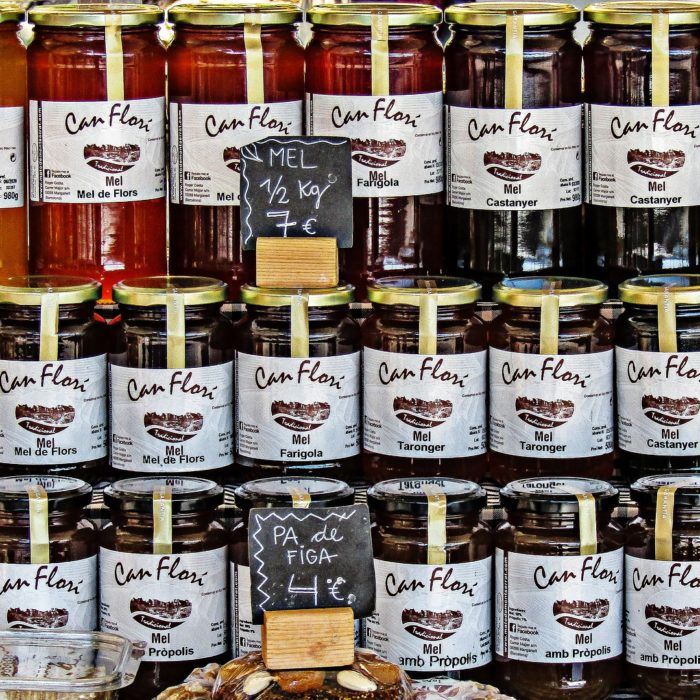 After you have decided on the sizes of your bottles, you will need to print labels. While you can [print your own, you can also upload your personal branding to a couple of places online which can print the labels professionally, upscaling the look of your overall product:
Canva

Not only can you create your own designs on Canva, but the company will print the labels and send them to your door.

UPrinting

UPrinting allows you to create custom labels for reasonable pricing. You can choose from a variety of different types to meet your needs.
What to Include on the Label
While some information is required and other data will just be for the benefit of your customers, you should ensure that there are a few things mentioned on the label. At a minimum, every jar of honey should include the following information:
Name of the Product

Not only should your brand name be posted on the label, but you will also need to add the food product to the label. Additionally, if you included any other additives, you will need to label those as well. Make sure that you also include your contact information and website (if you have one).

Date Honey was Harvested

While honey has an extraordinarily long shelf-life, customers do like to know when the product was harvested.

Net Weight

Make sure that you include both the imperial and metric units for your customers. Make sure the weight is of the honey alone (and not the jar).

Price of the Product

List the price of the product somewhere on the jar (though it doesn't necessarily have to be on the label). You can choose to ignore this if you intend to use signage to post prices.